As I continue on my Doctor Who adventures, I must say that each 50th anniversary book gets better than the last. I greatly enjoyed
The Last of the Gaderene
by Mark Gatiss. It was fast-paced, I didn't have to wait 50 pages to get into it, and it kept me guessing till very near the end. I have never seen a Doctor Who episode with the Third Doctor; I only know what he looks like from pictures. However, I got a clear sense of his personality through Gatiss' writing and I think that it what I truly loved about this book.
Rating:
4 out of 5 stars
Kelly <3
At first, I doubted whether or not I could really get into
The Island House
by Posie Graeme-Evans. It was one of those impulse buys in the middle of a long day of shopping for dresses...when that need to feel and read a book is almost overwhelming. It had a nice spine, then a nice cover, and the back had a nice pile of ruins on it. Then, I saw the word "Scotland," turned on my heel, and marched off to the register to purchase it. I began reading it a couple days later - it kept calling to me from the shelves.
However, that's where the disappointment started. I was bored with it; slow beginnings tend to peeve me off. Then, it started to get good, then better, then better still, until it finally became a bit tacky and I set it down. It seemed to be your average work of literary fiction (the section I found it in). Girl looses someone or something, goes on a wild goose chase to fill the void, etc., etc. When the supernatural kicked in full force around page 100, I felt that the author had actually degraded her own work. As you can tell from my blog, I love fantasy and science fiction. Heck, I'm even writing a sci-fi/fantasy myself, but the way she just threw up on the page put me off for a couple days.
I'm glad I finally picked it back up, though. The supernatural events backed off slightly and I was able to tie the two story lines together. At that point, I couldn't put the book down. I even carried it to my lunch duty on Friday. Both the students and my colleagues looked at me as though I was a complete nutter (little do they know that I actually am...).
Anyway,
The Island House
was a very good read. I think that the introduction of supernatural phenomenon is what really threw me off. There had been no hints of it earlier in the book, and if there were, they were too subtle and I missed them. I just thought that Freya (the archeologist) would discover Signy and Bear's past.
Rating:
4 out of 5 stars
Kelly <3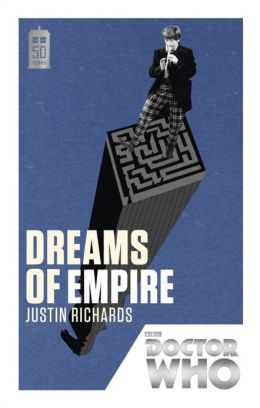 This second installment of the Doctor Who 50th Anniversary Collection,
Dreams of Empire
by Justin Richards was a good, easy read. I don't have much to say about it. It was one of those pleasure reads that was cheap...and dealt with Doctor Who, one of my great loves.
Dreams of Empire
wasn't stunning. In fact, the battle at Santespri was a little boring for me (which is normal fro war scenes). However, I really liked the different twists packed throughout the novel. I'm not much of a science fiction person (more fantasy), but I do love me some Doctor Who!
Rating:
3 of 5 stars
Kelly <3


Anyway, I know I said when I started this time that I would try my best to keep everyone updated, and I've totally slacked off. I think I bit off more than I could chew, what with trying to post a different thing every day. So instead, I will make a new resolution to update this blog once a week.

These updates may include book status updates, favorite book quotes, what happened during book club, or anything related to my life (as an English teacher) in general.

So on to the update...

At the moment, I'm reading five books...yeah...five. One is nearly finished - Dreams of Empire by Justin Richards. It's the second book in the Doctor Who 50th Anniversary Series being reprinted by the BBC. I'm also reading The Island House by Posie Graeme-Evans. It was one of those bookstore finds - the kind your eye alights on after being inundated by glossy-backed Mass Paperback copies of cheap fiction. It's set in Scotland (and after reading the first two books in the Outlander series by Diana Gabaldon, I felt it was an appropriate selection). I've also decided to finally delve into George R.R. Martin's A Game of Thrones. I really wanted to watch the TV show, and after a discussion with a dear reader-friend, she convinced me to read it. She's rereading it with me, and has even managed to get her sister on the bandwagon, so we started a small, three-person book club. Those are the three books that are going well. The other two are: Jane Austen's Mansfield Park and The Jane Austen Book Club by Karen Joy Fowler. I'm trying to read a section of the latter after every Austen novel, but Mansfield Park just isn't working for me. I've been reading it since mid-March, and I just can't stay interested in it. I think I might actually have to put it down (give up on it) and pick it up at a much later date.

Speaking of books I've put down...I recently started doing that. I used to struggle through a book, thinking that I owed the author (and I'm just extremely anal about those things), but I had to start doing it. I tried reading David Mitchell's Cloud Atlas, but I just couldn't get through it. It sounds great, and I usually love books with different perspectives, but the long-winded pieces were just too weighty to trudge through.

Hope you liked the update!

Kelly <3
Well, It's been just over a year since I started this second challenge, and I must say that it's going much better than it did the last time. I might actually make it!
Austenland
, by Sharon Hale was recommended to me by one of my mother's high school friends. My mom's friends and I seem to have a lot in common. I did enjoy reading
Austenland
, but not as much as I had at first hoped and expected. As you've probably already read, or guessed, I'm a pretty big fan of Jane Austen, and in particular, a big fan of her principle work,
Pride and Prejudice
. I enjoy reading "sequels" to this novel, but they never seem to stack up to my expectations.
Austenland
was no exception.
The plot was engaging, even witty in spots, but I missed the playful banter between Elizabeth Bennet and her co-star fellows. Instead, I read mundane passages where Jane (the principal participant at
Austenland
) blundered through the days and somehow managed to end up with her "Mr. Darcy." I will say this for Sharon Hale's work, however. I could relate to it. Even though it was completely fantasy-land, dream-scape, romance at the end, I related to all the other parts. It's sad to say, but absolutely true. I greatly related to this truth, stated by Jane's great-aunt Caroline: "
Things aren't working out so well, and each time the men in your life disappoint, you let Mr. Darcy in a little bit more. Perhaps you've come to the point where you're so attached to the idea of that scoundrel, you won't be satisfied with anything less."
Rating:
3 out of 5 stars
Kelly <3
Back Cover:
For twenty years Claire Randall has kept her secrets. But now she is returning with her grown daughter to Scotland's majestic mist-shrouded hills. Here Claire plans to reveal a truth as stunning as the events that gave it birth: about the mystery of an ancient circle of standing stones...about a love that transcends the boundaries of time...and about James Fraser, a Scottish warrior whose gallantry once drew a young Claire from the security of her century to the dangers of his...
Now a legacy of blood and desire will test her beautiful copper-haired daughter, Brianna, as Claire's spellbinding journey of self-discovery continues in the intrigue-ridden Paris court of Charles Stuart...in a race to thwart a doomed Highlands uprising...and in a desperate fight to save both the child and the man she loves...
My Review:
After
Outlander
, I was expecting to be riveted right from page one and tugged under the surface of the past only to resurface at the end. However, what actually happened went something like this: 1) wait, what? why's she in the present again? 2) oh, but what happened? 3) I'm not getting what I want. This sucks. *puts book down for three days* 4) You gotta give it a chance, Kelly *picks book up once more* 5) This chapter is so long! *puts book down* 6) *picks book up* This still sucks. Why is this not drawing me in? What happened to Jamie? 7) This is one f-ed up book 8) *puts book down for a week* 9) *picks book up* oh...okay. This is getting better *reads about 200 pages* 10) I'm bored 11) I just want to finish this 12) I'm bored 13) I just want to finish this 14) No!!! Jamie! Don't go! 15) This book sucks 16) One more chapter 17) Well, that wasn't so bad...toward the middle....
Let's just say that the plot is actually interesting, but it's poorly written. It just plods along, like an old mare. I wanted something that was more Donas speed.
Rating:
3 out of 5 stars
Kelly <3
Well...I've recently become addicted to Doctor Who. It happened over Christmas break. I watched the (new) series (all 6 and a 1/2 seasons) in just under two months. I've also watched a few of the classic episodes, but not many, I'll admit. However, now that it's the 50th anniversary of Doctor Who, I decided to read the BBC Doctor Who 50th Anniversary Collection. So of course, I started with the first in the collection,
Ten Little Aliens,
written by Stephen Cole.
This fanfiction (admit it, that's what it really is...it just has permission to published) centers around the First Doctor and his companions Polly and Ben. They end up on this big asteroid, years and years in their future, with a bunch of military Elite officers, a group of Schirr (the bad guys) and Morpheain Constructs (which are even worse bad guys who are working with the normal bad guys to get bodies) that just happen to be in the shape of statue angels!!!
This book is a confused jungle of characters and plot twists, but Stephen Cole does a good job of keeping his readers just enough in the know to hook them. While reading this book, you feel like one of the gang, just trying to get down to the ultimate mystery - who's in control? It also contains a little section that includes a "choose your own adventure" section, which makes you feel slightly in control when really, everything you already know is about to be proved WRONG.
Overall, it was a good read, but I don't think I'll read it again. The First Doctor just isn't lively enough for me...
Rating:
3.5 of 5 stars
Kelly <3
My Review:
Where to start? How about...the first 100 pages of my copy could have been summed up in one paragraph, which Jack London did...in part four!!!

I loathed this book. I taught it to my sophomores and they loathed it too, no matter how much I tried to get them excited about the text. We all agreed it was a bust. Parts four and five were the best sections of the book. The first three parts would have been okay if they were only a chapter each, because the other chapters were just repetitions.

Ugh...it took me forever to read this book. I thought it was just me, which is why I waited to do this review. My dad even said it was a terrible read. He couldn't even get past the first part, which I will allow has a lot of plot, even though it is drawn out.

Rating:

1.5 out of 5 stars
Kelly <3
My Review:
I've had
Outlander
by Diana Gabaldon downloaded on my Kindle for about a year now. I'd avoided it for that time due to its length. After deciding to write a fantasy novel based on time travel, I figured I'd jump in and see how Gabaldon did it. I wasn't figuring on being as swept away by the plot as I actually was.
At first, I couldn't put the book down. I think mainly I was anticipating the moment when Claire would time travel, but I really enjoyed the flow of the story. I had read a few reviews on Amazon, Barnes and Noble, and Goodreads.com, so I knew how she time traveled. As the suspense built up, I couldn't put the book down. I kept waiting for that moment of contact when her world would change, literally.
*Spoiler Alert* However, after Claire and Jamie marry in this new world, I became quickly fed up with all the sex and sexual innuendos passing between them and the rest of the Highland clansmen and found it difficult to dive back into the plot. I was frustrated for about two hundred pages, and after Jamie was captured and the sex ended, I got swept into the story once more. I realized that I liked Claire more than Jamie. I liked her strong personality and no nonsense attitude. The fact that she was still sane after everything she'd gone through made me like her character even more. I wasn't worried about Jamie, I wanted more adventures with Claire.
When the book ended, I was caught off guard. My Kindle was showing that I still had 7% to go, but that was just the excerpt from Gabaldon's next
Outlander
book:
Dragonfly in Amber
. I was disappointed; my heart slammed against my rib cage. Gabaldon had left off with the best cliffhanger ever! I immediately picked up my copy of the sequel and read the first couple of chapters. (It's not as good, unfortunately, but then again, I've only given it a very small chance. Maybe it'll pick up.)
Minus the ~200 middle pages containing sex every two to three paragraphs, this is probably the best book I've read since the first of the year. I gobbled up 870 pages in less than a week.
Rating:
4.8 out of 5 stars
Kelly <3
P.S. Sorry for the poor review. I'm exhausted from a week of cold/flu symptoms.
Current Mood:

exhausted
Back Cover:
Carved into the towering cliffs of central Greece, the Monastery of the Holy Trinity is all but inaccessible. Its sacred brotherhood has protected its secret for centuries.
In the dead of night, the monastery's sanctity is shattered by an elite group of warriors carrying ancient weapons. One by one, they behead the monks and hurl the bodies from the cliff top to the rocks below. The holy men take their secrets to their graves.
Halfway across Europe, Richard Byrd has uncovered the location of the magnificent treasure, but there are those who will stop at nothing to prevent its discovery.
Hoping to save himself, Byrd contacts Jonathan Payne and David Jones and begs for their help. The duo rush to Saint Petersburg, Russia, and quickly find themselves caught up in an adventure that will change their lives forever.
My Review:
I'm not sure what it is about books like this, but I really enjoy reading them. I like to call them "historical mysteries" that run along the same lines as Dan Brown'
Angels and Demons
The DaVinci Code
, an
The Lost Symbol
. Chris Kuzneski is a very good writer, but he doesn't seem to hold up as much as Dan Brown. Brown usually has more history in his books, whereas Kuzneski uses history to spark a chase filled with violence and little clue-solving. Don't take that sentence the wrong way, though. I thoroughly enjoye
The Lost Throne
. I did not enjoy it as much as the first Kuzneski work I read (
The Prophecy
), but that could be because I was more interested in the "End Times" than I was this "lost throne," otherwise known as the Throne of Zeus, one of the Seven Wonders of the World.
Rating
3.5 out of 5 stars
Kelly <3
Current Mood:

determined

Current Music:

"I Dreamed a Dream" ~Anne Hathaway, Les Miserables